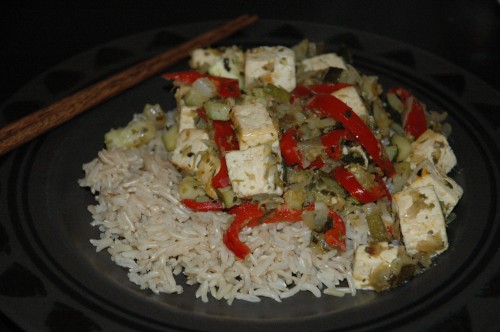 With dropping autumn temperatures, there's nothing like a nice zesty dish to warm up your night. Give this recipe a whirl, utilizing three of our favorite herbs. It has quite a unique tang to it, combining lots of fresh mint and jalapeno peppers. If you prefer, this dish would also be great with chicken instead of tofu.
Vegetable Citrus Mint Stir Fry
Ingredients:
1 tbsp Olive Oil
3-4 Garlic Chives, minced
1 block firm or extra firm Tofu, well pressed
1 Red Bell Pepper, sliced
½ Onion, diced
1 Zucchini, chopped
4 stalks Lemon Grass, well minced in a food processor
2 tsp Sugar
½ tsp Salt
1 tbsp fresh Ginger, minced
1 Jalapeno, minced (or to taste)
1 ½ cups packed Citrus Kitchen Mint leaves
1 tbsp Rice Wine Vinegar (or White Wine Vinegar)
pre-cooked Rice
Preparation:
Sautee the garlic, tofu, red pepper, and onion for about 5 minutes. Add the zucchini, and continue to cook until the veggies are soft and the tofu is golden brown.
Remove from heat.
For sauce, place the remaining ingredients (except rice) in a food processor and process until mint is finely minced.
Add sauce to the tofu and veggies and reheat, just until hot. Serve over rice.