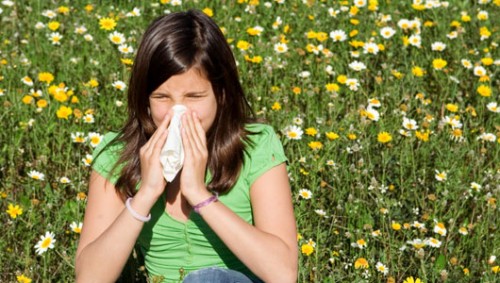 It's that time of year again. You know, the time of year where everything is dusted with a thick layer of pollen and your nose takes on that itchy-sneezy-runny quality that heralds in the spring weather. For those of us that suffer from allergies, the term "spring fever" has a much more literal connotation, and constantly taking medication to combat these awful symptoms may offer equally unsavory side effects. So, what is an allergic outdoors-lover to do? The best cure for allergies may just come from your garden! Consider the following herb plants when you begin to sneeze and sniffle this spring:
Eucalyptus: Did you ever use Vapor Rub as a kid, when you were sick and stuffy? Well the naturally mentholated antibacterial oils in Eucalyptus are perfect for unclogging stuffy sinuses. Just boil some water and add a few cups of the minty Silver Drop Eucalyptus, and lower your head over the concoction. You may want to drape a towel over your head to collect as much steam as possible as this will alleviate much of the sinus pressure and congestion. For more information on using Eucalyptus as a natural remedy for allergies, read our previous blog!
Parsley: Chocked full of vitamins and minerals, Parsley is a wonderful antioxidant that will boost your immune system and help your body fight off symptoms from allergies. Because of Parsley's anti inflammatory abilities, it acts as a natural antihistamine and helps to quell runny noses. The Italian Flat Leaf variety is packed with higher levels of Vitamin C, Iron and antioxidants than its Curly cousin, but making tea with either will soon have you feeling much better!
Chamomile: Just like Parsley, Chamomile contains anti inflammatory benefits which will help clear congestion and prevent your nose from running. When made into a tea, this lovely medicinal herb also has a soothing effect on your body, allowing you to relax and rest which helps your body fight off attacks to its immune system.
These are just a few of the many wonderful healing herbs that we grow that can help cure what ails you. Read through our great list of medicinal herb plants to start curing yourself the natural way!