We will plant these new beds. So far all we have been able to do is wait, all is ready but the weather. We have big plans for this garden we are calling " a year in the life". This cold frame structure is covered with a sheet of construction grade plastic, when spring temperatures are reliably warm we will remove it and cover with a shade fabric which gives about 30% shade and breaks up wind and heavy rainfall. The plastic keeps the inside warm, but not when temperatures are as low as now.
The beds are laid out to give us a demonstration garden for the plants we sell. We will keep a photo record of each planting, we will have flowering annuals and will mix in an assortment of culinary herbs. We hope to keep a bed of medicinal herbs and maybe some aromatic herbs, but would like some input as to what we should plant.
One bed may have a large basil plant surrounded by calibrachoa and celosia, combining herb plants with annual plants. First seeds will be sown in a week or two, as soon as night temps rise out of the twenties. For now I am still stuck talking about what I am going to do, but this has been one rough winter. Not yet, but soon we will have these beds full of plants!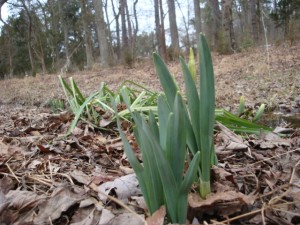 The first daffodils are a sure sign that spring is on its way!