For many of you, gardening in January means sitting in front of a warm fire, sipping from a hot tea and browsing through your 2014 Herb Catalog. This is going to be a bitter cold week for us at the greenhouse: we are cutting wood as I write, and I'll be the setting the alarm for midnight and 4 AM to check the woodstove.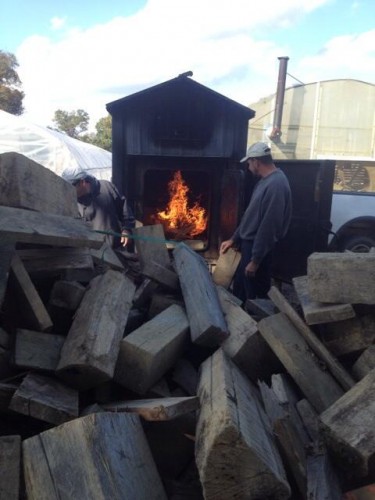 The plants are doing well – our new bottom heat technology allows us to keep the root zones a toasty 65 degrees with 50 degree air temperatures. This means stronger, more developed roots and compact and strong top growth. This new method has also cut wood consumption by 50%.
Enough about us – let's get back to you! Herb gardening in January is all about planning. Whether you are working on your 30th herb garden, or you are working with a Garden Designer to plant a new one in your garden, a good plan is an important first step. And, it doesn't have to be a daunting task, but rather an enjoyable pastime that will ensure a bountiful spring garden.
Although I admire those gorgeous formal herb gardens (intricacy woven knots), I'm more attracted to a casual, natural design that doesn't require a great deal of trimming, weeding, and worrying. And, since I really love to use my herbs in the kitchen, my garden tends to be more culinary in nature. Culinary herbs can be planted anywhere in the garden: plant them under an ornamental tree, among your vegetables, or in containers. The larger herbs make perfect landscape plants. But, for my money, I like to create an informal garden of culinary herbs planted as a curving border. This particular plan can also be treated as an island, accessible on all sides. Whichever you choose, there are a few guiding principles:
You must have well-draining soil and a sunny location
Plant your garden as close to your kitchen as possible
If you have the space, then plant at least 3-5 plants per variety
First, determine where the garden is going and how much space you are going to need. The shape and size can be adapted to the specifics of your site, and once you're determined placement use a hose to lay out the curve of the border. No straight lines allowed! Even a slight curve will make for a more interesting bed. If this is an established bed, then a lot of the work has been done. If you are creating a new bed, don't worry. As long as your ground is not frozen, you can get out there and dig. Make sure that you prepare your soil (a Google search on "preparing a garden" will provide you with more than enough information). When deciding where to put what, my only advice is this: everything can be moved. There are no hard and fast rules. A few things to remember – put your low growers in the front of the bed, make sure you pay attention to the height and spread information on the plant product page and grow what you like (although adding a few unknowns keeps things interesting). And, above all else, use them regularly.

www.bbb.org/gardening/handbook
12 – Low Growers: Thymes – French, English, Lemon