There is nothing better on a cold winter night than to light a fire, open a bottle of a nice deep, dark red wine, slice up a warm loaf of crusty bread and dip into a hearty bowl of Savory Beef Stew.
A few words before you begin:
Start Early – although it is possible to overcook this stew, I'd count on at least 2 ½ hours to make sure that your beef gets to that 'shredded stage'.  I'm using our own grass fed beef with not a lot of fat, so slow and low simmering works best for me.
The Right Pot – use a good old fashioned Dutch Oven or treat yourself to a Le Creuset Casserole.  Honestly, I got mine at a deep discount at Home Goods and it's gotten more use than my car!
Herbs – herbs and more herbs – fresh is best, but if you are cooking this in the deep dark days of winter and the garden is a memory, used dried.  I can't stand to see folks waste their good $4 on a clamshell of half dead 'fresh herbs'!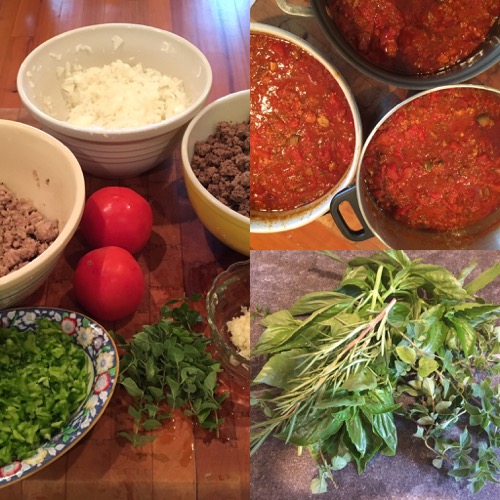 So, let's lay out the ingredients.  Please note that I am not a professional so a 'dash here' and a 'pinch there' is as exacting as I can get!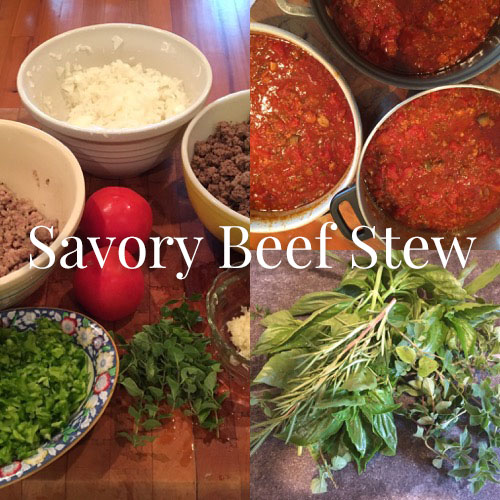 | | |
| --- | --- |
| | |
Olive oil in the bottom of the pan heated to medium low and toss in the meat. A lot of recipes call for the meat to be tossed in flour, but that seems to 'gum up the works'. Not a fan of white flour anyway. Just allow the meat to brown slowly. Stir around a bit.

Once the pieces are nice and brown, toss in the garlic, leeks and carrots and potatoes and let them cook SLOWLY - low heat and a lot of stirring and patience.

When they are nice and soft and aromatic, toss in the herbs. Ok, if you need measurements, let's say a tablespoon of that and a tablespoon of this and then keep it on low heat and allow all those flavors to infuse. Slow and steady.

Then pop in the mushrooms and cover the whole batch with the broth. At this point, it's time to let this baby simmer. You'll need to check from time to time, and cover and uncover. There will come a point where you are getting close to the finish line. Take a spoon and let the stew cool a bit.

Taste and then decide on the salt and pepper. It's at this point that I may decide on an additional 'punch' - maybe a bit of Worcestershire Sauce!

After 2 hours, check the beef. If it's easy to shred, you are near the finish line. Make sure that the broth has a nice, herbal infusion and it's salted and peppered to your taste. I usually let it sit, unheated, for a bit and then slowly heat back up right before serving.
You can toss just about anything else into this stew, but I like to keep it clean and simple.  That way, the flavors of the herbs really stand out.
Enjoy!