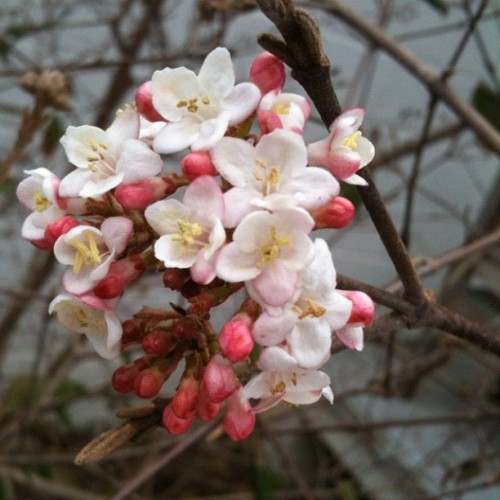 Well it's definitely safe to say that Spring has sprung. Our forecast here in Virginia (zone 7b) calls for temperatures at or above 68 degrees for the next ten days! But, before I break out the shorts and sandals, here are a few things that still need to be done in the garden before Spring truly takes over:
* Enjoy these warm afternoons by doing a little spring cleaning! Clean and oil your garden gear and make sure to sharpen pruners, shears and shovels for clean cuts in the garden. Cleaning and sharpening your tools will promote a long life for your tools and better health for your plants. Dull blades may mash the stems of your herb plants and flowers, opening the door to disease or decay. Don't forget to keep all your tools and gardening equipment somewhere safe – small sheds are a great solution if you need more storage space in your garden.
* Finish clearing the gutters, gardens and other nooks and crannies of all lingering Fall leaves. This will be a huge help once April hits and we start to see more rain. Removing debris like old leaves, will allow your rain gutters austin to drain, preventing insect larvae and mold from inhabiting your home. Once you're up there cleaning the gutters, take a look at your roof to check for any damage it may have gotten over the winter months. Contact the Ace Roofing Company if you see anything that could lead to water damage. After you've cleared your gutters, it's a great time to install a rain barrel to collect the runoff for your garden. It may take longer for some people to completely remove any unwanted debris that is living in your guttering system. Don't worry, you don't have to complete this process alone, as there are many companies similar to Clean Pro Gutter Cleaning Atlanta who will be able to make sure that your gutter has been completely cleared so that you are able to install a rain barrel with no other complications. This will be a huge help when rain is scarce, and the natural minerals in the rainwater are much better for your plants. Lastly, be sure to clear all leaves, lingering foliage, or dead plants from your garden to discourage disease and give your Spring plants a fresh start.
*Once you've cleaned your gardens, it's a good time to test and amend your soil. You can find soil test kits at your local hardware store, and if you don't have a composter, you should pick one of those up while you're there! Adding two to three inches of organic compost to your garden is a terrific way to boost the nutrients in your soil and give your new garden a great makeover.
*Give your perennial herb plants like Cutting Celery and Italian Flat Leaf Parsley a good pruning to encourage tender spring grow. Are you petrified of pruning? Watch our how-to video, where I show you the proper way to prune Parsley!
*Here in VA, we should be clear of any frosty nights, so you can start planting cool weather crops, like Arugula, and most herbs, especially herbs that bolt during the heat of summer, like Cilantro. If you're planting herbs that may be more sensitive, like Basil, make sure your night time temperatures will consistently be at or above 50 degrees before planting outside.