Are you interested in becoming an author on our blog, The Herb Exchange? The Growers Exchange is interested in publishing unique & thoughtful articles relating to gardening & herbs. We are interested in partnerships with influential bloggers.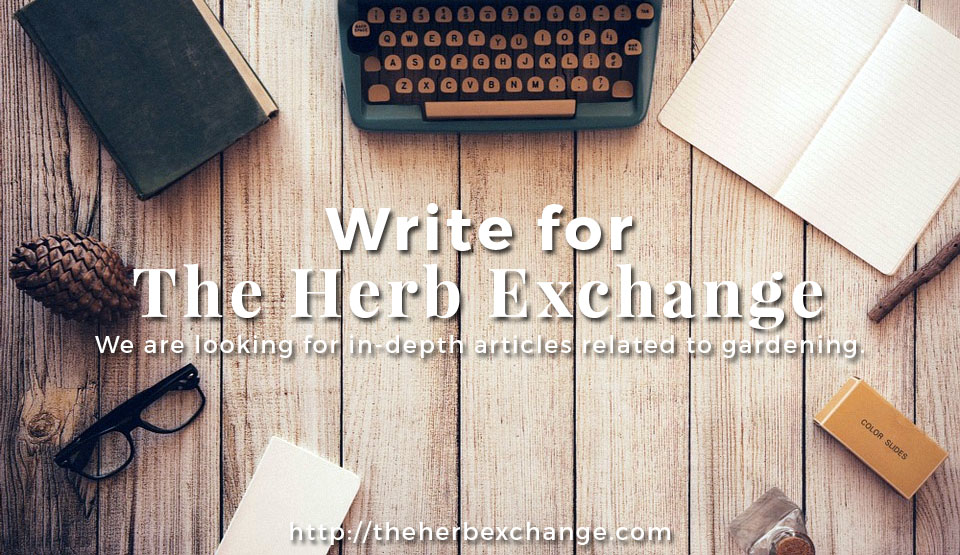 You can use the form below to submit an article. If you have an author website or portfolio of work, please feel free to share it so we can take a look. Author websites are a great way of showcasing your work and building a name for yourself as a writer.
We are looking for in-depth articles about the following topics, but feel free to suggest your own expertise. (All links point to categories on our blog.)
What Should I Write About?
Gardening & Herbs
Container Gardening
Dealing with Pests
Plant Propagation
Herb Specific Posts
Culinary Herbs & Recipes
Medicinal Value of Herbs
Interesting Uses of Herbs
This is, of course, merely a small sampling of the majesty that is herbs & gardening. If you are an expert and can write intelligently about these topics or something else, we want to see it. We don't publish everything, but we will publish what we like. So please, be creative and send us your idea. If we approve it, we'll email you back with more details.
Writing Guidelines for The Herb Exchange
All articles must meet the following requirements. Exceptions may be made in some cases where the content allows for changes against our requirements.
Please only send one herb-related article idea at a time.
Articles must be at least 1,200 words. Longer is better, but do not stuff words to make the article longer. If it tells the story successfully in less words, we'll consider it. This requirement is to discourage "SEO" articles that provide fluff and nothing else.
All articles must include relevant sources. You didn't write your article without doing any research, did you?
Please only put one space after each period. Two spaces is a holdover from the days of typewriters that has no modern relevance.
You must be able to provide a reciprocal link to our site or your blog post after we publish. We must approve the site you submit for the reciprocal link.
You Get Full Credit
If we choose to post your article, please include a featured bio about yourself. You may include links to your website and social profiles like Facebook & Twitter.
Idea Submission Form