Autumn is fast approaching, and you know what that means: put your white wardrobe in the attic! And, for some gardeners, it may signal something else: the end of the growing season. Truth be told, however, fall is an excellent season to plant herbs in the garden or containers. What do you need to know about planting in the fall? Which herbs should you choose?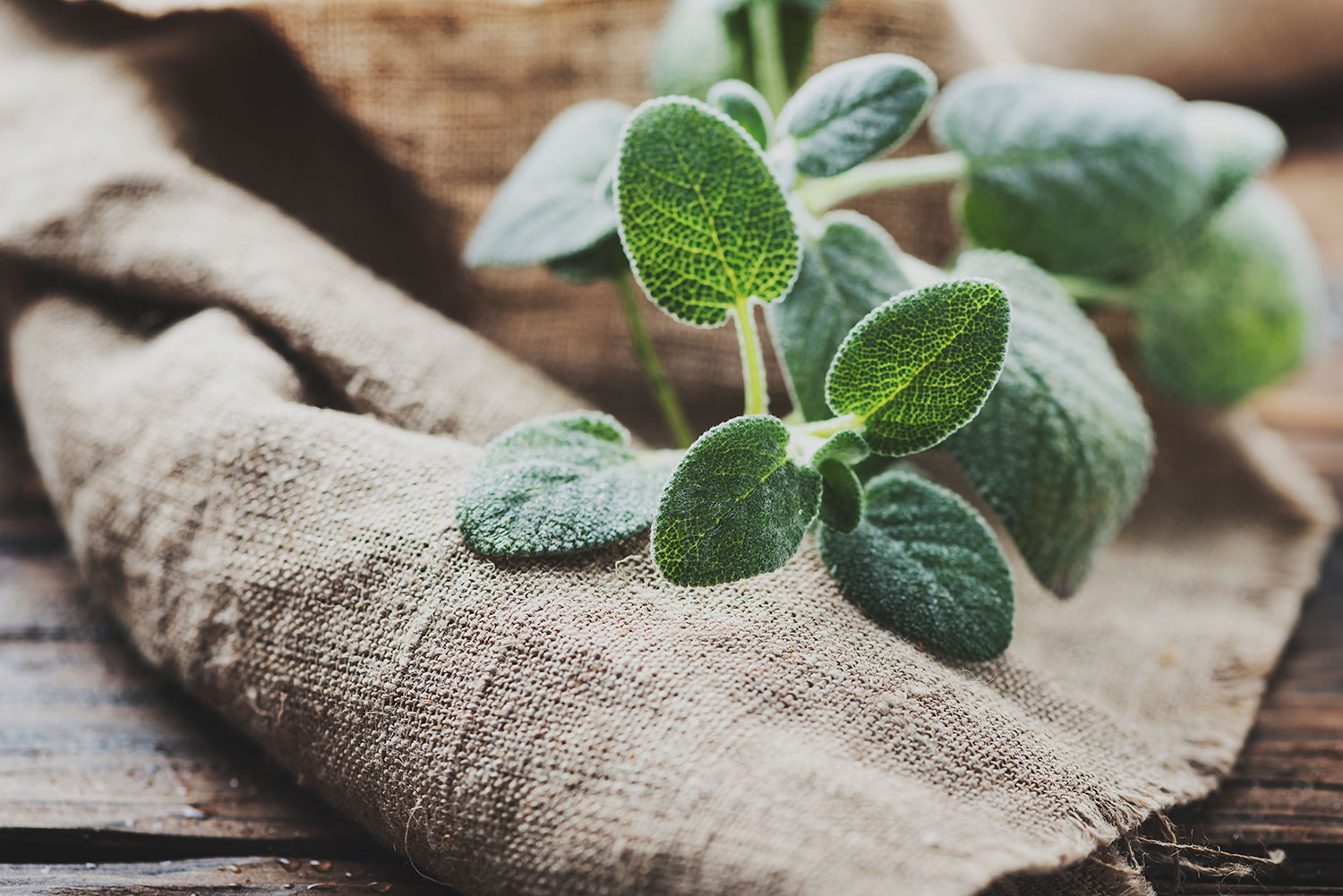 What You Need To Know
If you're a "fallscaping" rookie, here are a few things you need to keep in mind:
What is fall?
This probably sounds like a pretty basic question, right? There might be more to it than you think! Your fall season depends greatly on your hardiness zone. So, what are some basic "requirements"?
The Fall Season is between Labor Day and the "Fall Back" Daylight Saving Time.

Your temperatures should maintain a daytime high

below

80 degrees.

Your first frost should be

at least

10-6 weeks away.
What's the latest I can plant?
Our advice: don't drag your feet! Go ahead and preorder your herbs so that they arrive right on time. What are the dangers of procrastination? 
Young herbs (especially perennials) need to "harden off" before the first frost, which basically means they need to acclimate and toughen up to lowering temperatures! If they aren't given enough time for this process, let's just say… you'll be left with a pretty sorry-looking plant.
How long do herbs need to harden off?
Perennials (especially woody varieties) require 8-10 weeks.

Annuals and biennials require 6 weeks.
Will planting Perennials in the fall hurt them in the long run?
Nope! It turns out Kelly Clarkson is right: What doesn't kill you makes you stronger. Facts show that perennials that are hardened off and experience their first winter as a youngster emerge stronger, healthier, generally hardier, and are more productive in the spring when compared to Spring-planted plants.
10 Herbs to Plant for Fall for Gardens & Containers
Sage
Hardy to zone 5, this perennial herb has you covered in all aspects: It's a winner in the kitchen (say hello to this stuffing and fettuccine recipe) and is renowned for its health benefits. Whether you have a common cold, are suffering from stress or menopausal symptoms, Sage can come to the rescue! 
Another perk: Even if you have a slight "black thumb," Sage varieties are forgiving and resilient. Plant your Sage in well-draining soil, keeping it in partial to full sun. If your Sage is in an outdoor container, water it 2-3 times weekly when the soil dries out.
[wps_products product_id="4317115777105″ excludes="description" show_featured_only="true"]
Echinacea
Are you prepping for the cold and flu season? Do you want some beautiful springtime blossoms? That means that Echinacea (aka the coneflower) is perfect for you. Attractive pink petals complement the rusty red centers, attracting all kinds of pollinators in the spring. Oh, and the best part? A cup or two of Echinacea tea weekly can ward off infection.
These perennial herbs can survive in several different soil types, even rocky areas! The most important thing to keep in mind? They hate "wet feet." Keep these beauties on the drier side in partial to full sun. If you've opted to confine your Echinacea to a container, make sure there's enough room to accommodate the taproot (usually a 2-3 gallon pot).
[wps_products product_id="4317112270929″ excludes="description" show_featured_only="true"]
Chives
If you live in a chilly region, Chives are for you! This perennial is hardy all the way to zone 3. As one of the most popular herbs, Chives probably don't require much of an introduction: they taste great on everything, have alluring springtime pom-pom flowers, and are a nutrient-rich food (okay, that one might be a little surprising, right?).
Place your Chives in a location that receives full to partial sun and provide them with fertile, moist, well-draining soil. These plants can be grown in containers both inside and out; just make sure you place them on your sunniest windowsill!
[wps_products product_id="4317111779409″ excludes="description" show_featured_only="true"]
Lilac Jelly
Use Lilac flowers, or any other type of strong-smelling edible blossom (like the Lavender shown here), to make this jelly! Its lightly floral taste pairs nicely with many things: add it to your cream cheese and bagel routine in the morning, or include it in a lemon drop martini at night. Either way, you won't be disappointed.
If you're looking for an overflowing container plant, this one's for you. Lemon Balm tends to be invasive in the garden, so it's perfect for pots! Plant your herb in well-draining, sandy loam, place it in your sunniest location, and allow the first inch or two to dry out between waterings.
[wps_products product_id="4317113122897″ excludes="description" show_featured_only="true"]
Thyme
Thyme is a low-growing, shrubby herb that makes excellent garden edging. In the kitchen, thyme is an easy flavor-filled addition to just about anything: omelets, soups, chicken… you name it! Medicinally, the leaves, flowers, and oil are used to treat bronchitis and other conditions.
This perennial is hardy to zone 5 and should be planted in well-draining soil, placed in your sunniest spot, and watered when the first 2 inches of soil have dried.
[wps_products product_id="4317116203089″ excludes="description" show_featured_only="true"]
Lavender
While you can't expect any blossoms until the Spring, get a head start on next season by planting hardy Lavender varieties in the Fall! In the meantime, you can use Lavender leaves to make delicious treats (like these Lavender Lemon Bars) or make a simple Lavender tea to fight stress, anxiety, and insomnia.
These herbs are perennials and are hardy to zone 5. Plant your Lavendar in well-draining soil, keep it in your sunniest spot, and allow the soil of mature plants to dry out before rewatering. If you keep your Lavender in a container, make sure it's large enough for its root system (2-3 gallons).
[wps_products product_id="4317113647185″ excludes="description" show_featured_only="true"]
Greek Oregano
Similar to Thyme, Oregano is another low-grower that makes a beautiful frame for your taller plants. While blossoms are understated, Oregano's flavor is impactful! Use this herb to flavor a fantastic marinara or create a Pistachio-Oregano pesto. Medicinally, Oregano is used to fight viral infections and can be used as a natural insecticide.
Oregano is hardy to zone 5. Like other Mediterranean herbs, they should be planted in well-draining soil in bright light; mature specimens should dry out before rewatering.
[wps_products product_id="4317114368081″ excludes="description" show_featured_only="true"]
Marjoram
It's not just Oregano's cousin… we believe Marjoram has real value in the garden and pantry! Marjoram pairs beautifully with grilled beef and fish (nobody said to retire the grill after Labor Day!). In the medicine cabinet, the oil and leaves of Marjoram can fight muscle pain: simply add a few tablespoons of dried Marjoram to your bathwater. 
Marjoram is a perennial in warmer climates (to zone 7). Even if you live in a chillier area, Marjoram is a worthwhile annual herb to start in the Fall. Plant it in the container with well-draining soil and bring it to a sunny indoor location when temperatures spiral downward.
[wps_products product_id="4317115351121″ excludes="description" show_featured_only="true"]
Parsley
The potential is endless with Parsley. As a wispy biennial, it's fast-growing and makes a perfect container plant to have in a sunny location near the kitchen door. Whether you're adding pizzazz to potatoes, sprucing up squash, or flavoring focaccia, Parsley is the herb for you!
[wps_products product_id="4317114826833″ excludes="description" show_featured_only="true"]
Cilantro
You either love it, or you hate it… our vote is in Cilantro's favor! The beginning of fall does not mean you have to give up delicious guacamole, chimichurri, and easy taco toppings. Your Cilantro plant will grow perfectly in a pot filled with well-draining soil that's kept in a sunny spot.
[wps_products product_id="4317111156817″ excludes="description" show_featured_only="true"]