Winter is fast approaching: it's time to pull out the scarves, boot socks, and chunky sweaters! While we might start out content, sipping our cup of hot cocoa, eventually, you know what happens… Cabin fever. We miss our garden. We miss fresh herbs. We miss summer! Solution? Continue to grow herbs in the winter! Which ones should you pick? Keep reading!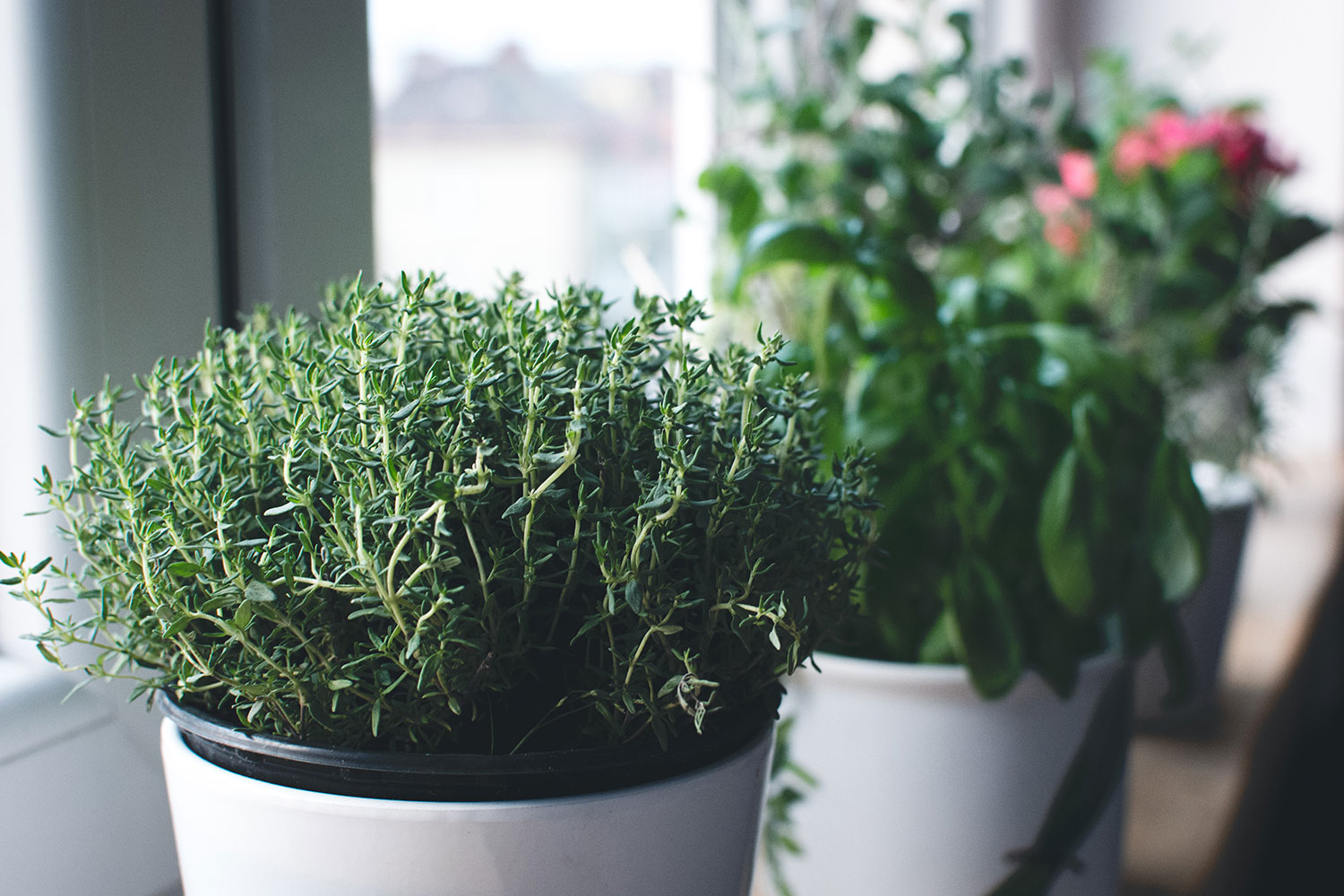 Growing Herbs in the Winter: What You Need to Know
What to Expect
During the winter months, all of your leafy friends (no matter how hardy) are resting. Don't go into a winter herb growing venture expecting massive payouts.
To maximize their chances of growth, you will need to shield plants from winter elements. For example, Rosemary, Bay, Sage, and Thyme can survive on their own in pretty cold conditions (up to zone 5). However, if you actually want them to grow (a little), you will need to protect the leaves and roots from frost and nighttime lows.
And when we say "a little," yes, we mean a little. If you give your plant's the protection they need, you may see a few tender shoots, which you can harvest. 
If you have a mature perennial, don't go chopping into its old growth. Why? This is where it keeps its energy reserves! Cutting off too much of your plant will cause its ultimate demise. (Good news? We're always here for your replacement plant in the Spring!)
How to Protect Your Plants
If you're overwintering some of your precious herbs outdoors, you will want to invest in frost covers. Even if you live in an ordinarily mild climate, these are good to have on hand for emergencies.
For container gardens, things can be much simpler: Just drag your potted plants into the protection of the garage during severe weather. It's worth noting, you need to protect both the foliage and roots of potted plants from cold, which you can do by wrapping the pots in blankets.
Bringing Them Indoors
Arguably, an indoor windowsill garden is the easiest way to keep your stock of fresh kitchen herbs going in the winter! Remember, most popular herbs are from the Mediterranean and require at least 6 hours of full sun daily. So, get your sunniest spot ready, keep plants away from radiating heat, and be careful not to overwater! Looking for more tips? Read this.
How Much to Harvest
If you want your plant to live another day, never harvest more than 10% of the leaves and/or stems during winter. Wait to re-harvest until you see new shoots. 
If you've purchased plants simply to get you through the winter, pluck off what you need when you need it. Sure, your Basil or Cilantro might be bald by Spring, but that's what we're here for! 
How Many to Buy
If you're purchasing plants expressly for winter harvesting, how many should you buy? Even in the best winter conditions you can muster, your plant's growth will not be up to Spring or Summer standards. For this reason, you will need to invest in several of the same plants to fuel your kitchen creations. Our advice? Pick your favorite and line your windowsill!
10 Winter Herbs for Cold-Season Harvests
Winter Savory
Unlike its Summer Savory counterpart, Winter Savory is a perennial (up to zone 6). Unfamiliar with this herb? Treat it right, and it will bless you with a little bit of new growth during the chillier seasons. Savory is a component of the classic Herbs de Provence blend but can also hold its own in meaty recipes, like this Balsamic Herb Baked Chicken.
[wps_products product_id="4317115580497″ excludes="description" show_featured_only="true"]
Chives
Indoors or out, Chives are easy to take care of and are hardy to zone 3. Plus, what's more satisfying than a little "snip snip" of Chives on top of a Twice Baked Potato?
[wps_products product_id="4317111779409″ excludes="description" show_featured_only="true"]
Mint
There are plenty of types to choose from… it's good to know that Winter doesn't have to put a damper on your Mojito intake and can actually make winter salad eating fun! Since the hardiness levels of Mint can vary depending on the variety, here's a glance at the ones we offer:
Mint 'Mountain': Hardy to Zone 3

Mint 'Orange': Hardy to Zone 3

Mint 'Peppermint': Hardy to Zone 3

Mint 'Mojito': Hardy to Zone 4

Mint 'Chocolate': Hardy to Zone 5

Mint 'Spearmint': Hardy to Zone 5
[wps_products collection="Mint Plants" items_per_row="2″ title_color="#6BBEE7″ show_featured_only="true"]
Basil
Sure, you're not going to put your Basil outside during a snowstorm. It needs a little more tender love than that! But, these annuals make the perfect addition to a sunny windowsill garden.
[wps_products product_id="4317110206545″ excludes="description" show_featured_only="true"]
Tarragon
Tarragon is a hardy perennial to zone 4. Are you new to the world of Tarragon? For one thing, it's a renowned companion plant, so it's good to have around in the Spring and Summer. But its usefulness doesn't end at the threshold; it's definitely a winner in the kitchen. Imagine being curled up on a cold winter day, munching on a baguette smothered in Tarragon Butter. (Convinced yet?)
[wps_products product_id="4317115842641″ excludes="description" show_featured_only="true"]
Sage 
This perennial is hardy outdoors to zone 5. Its flopsy, lambs-ear appearance makes for a beautiful garden and some delicious dishes!
[wps_products product_id="4317115777105″ excludes="description" show_featured_only="true"]
Sorrel
There's nothing quite like tart, sweet, exuberant Sorrel, which is hardy to zone 5. Keep it indoors in a bright location (or supplemented with a grow light). Once leaves are 4 inches long, you can harvest. Not quite sure what to make? How about this cozy soup!
[wps_products product_id="4317116006481″ excludes="description" show_featured_only="true"]
Rosemary
It's a classic. And dare we say: We all love it! Rosemary is hardy as a perennial to zone 5. Give it the protection it deserves, and your mature outdoor plant may reward you with some new cool weather growth. Are you a Rosemary fanatic? Well, then we suggest you buy a plant for your kitchen windowsill to fuel your wintertime cravings!
[wps_products product_id="4317115056209″ excludes="description" show_featured_only="true"]
Parsley
Another fan favorite, Parsley, can easily thrive on a windowsill that receives sufficient light. Outdoors, your Parsley's growth is going to "knock off" somewhere around 70 degrees. Inside, you can continue to harvest your Parsely until it's bald and replace it in the Spring.
[wps_products product_id="4317114826833″ excludes="description" show_featured_only="true"]
Cilantro
We are on Team Cilantro! Continue harvesting this zesty, fresh, summer-y herb through the winter by placing it in your bright windowsill (props to you if you have a heated sunroom!). Harvest sparingly, allowing your plant to recuperate, or go for the "big chop" and satisfy your guacamole craving! In all honesty, Cilantro doesn't last that long anyway, so… have at it!
[wps_products product_id="4317111156817″ excludes="description" show_featured_only="true"]