Make festive sips that lighten the season with a must-have herb or two. This ingredient is the underrated star of cocktails ranging from the classic to artisanal. Take fresh mint leaves, for instance, which can brighten any flavor. Or a sprig of rosemary as a garnish, which can make any average mixed drink glow.
The best part is that you can grow these herbs in your garden — so you can experiment on your own blend all year and then impress your friends come Christmastime. Here are some ideas to get you started:
Mint
This cool and refreshing leaf is a universal component of cocktails. Together with spirits and other ingredients, it has come to define traditional drinks like the mojito and julep. But that doesn't mean you can't go off the beaten path and pair it with your distilled liquor, ingredients and garnishes of choice.
These holidays, let the soft and sweet (with a hint of lemon) taste of mint grab your guests' attention with the ultimate easy mint mojito recipe. 
Ingredients: Sugar, fresh mojito mint leaves, white rum, fresh lime juice, club soda (chilled), crushed ice, lime slices and mint sprig
On the other hand, why don't you put a twist on your mint cocktail in the spirit of the season? The twist? Cranberry mint fizz. 
Ingredients: Cranberries, mint leaves, sugar, lime juice, Smirnoff Cranberry Vodka, cranberry juice, ginger ale and cranberries for garnish
Some combinations to consider for your mint-infused cocktail:
Blend with lavender for a floral accent.

Mix with lemon mints to achieve a citrus taste.

Pair perennial mint with berries, melons, gingers and peaches.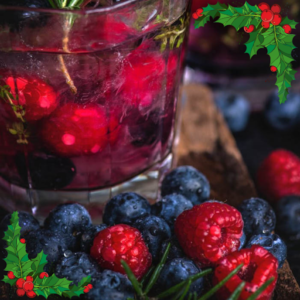 Rosemary
This savory herb pairs well with sweet and citrusy drinks. And it does a good job of adding flavor when infused into a cocktail or elevating the experience when applied as a garnish. When used fresh and raw, it also brings comfort and warmth, exactly what we need to survive the cold that envelops us.  
Turn your joyous celebrations into a beautiful memory. Go all out with this rich and remarkable rosemary peach sangria recipe.
Ingredients: Pinot grigio, peach liqueur, simple syrup, club soda, peaches, fresh rosemary sprigs and extra rosemary sprigs for garnish
Are you hosting a party for friends and family? Keep things lighthearted this season with berry and rosemary juniper gin fizz.
Ingredients: Blackberries, lemons, rosemary sprigs with leaves picked, juniper berries, honey, Bombay Sapphire gin and soda water
Lastly, strike a balance when you pair rosemary with the right elements:
Mix it with apples, berries, citrus and pears

Combine with gin, vodka or sparkling wine. 
Mix Your Herb and Drink Wisely
There are no hard-and-fast rules when it comes to preparing a cocktail infused with mint or rosemary. Instead, take your time to perfect the art of mixing drinks behind the bar. 
With a herb garden to pick from no matter the occasion, you can also go beyond these two options. But of course, you can always bet on them to be fan-favorites during the merry days of winter.