After realizing the rich history behind Edible Flowers, you probably feel the urge to reincorporate them into daily life. But, let's be honest: our experience coupling flowers with food is perhaps limited to throwing them on as an attractive garnish or tossing them into a salad. But, with these new ideas under your belt, you won't just be eating your 'rainbow' every day; you'll be eating your bouquet too!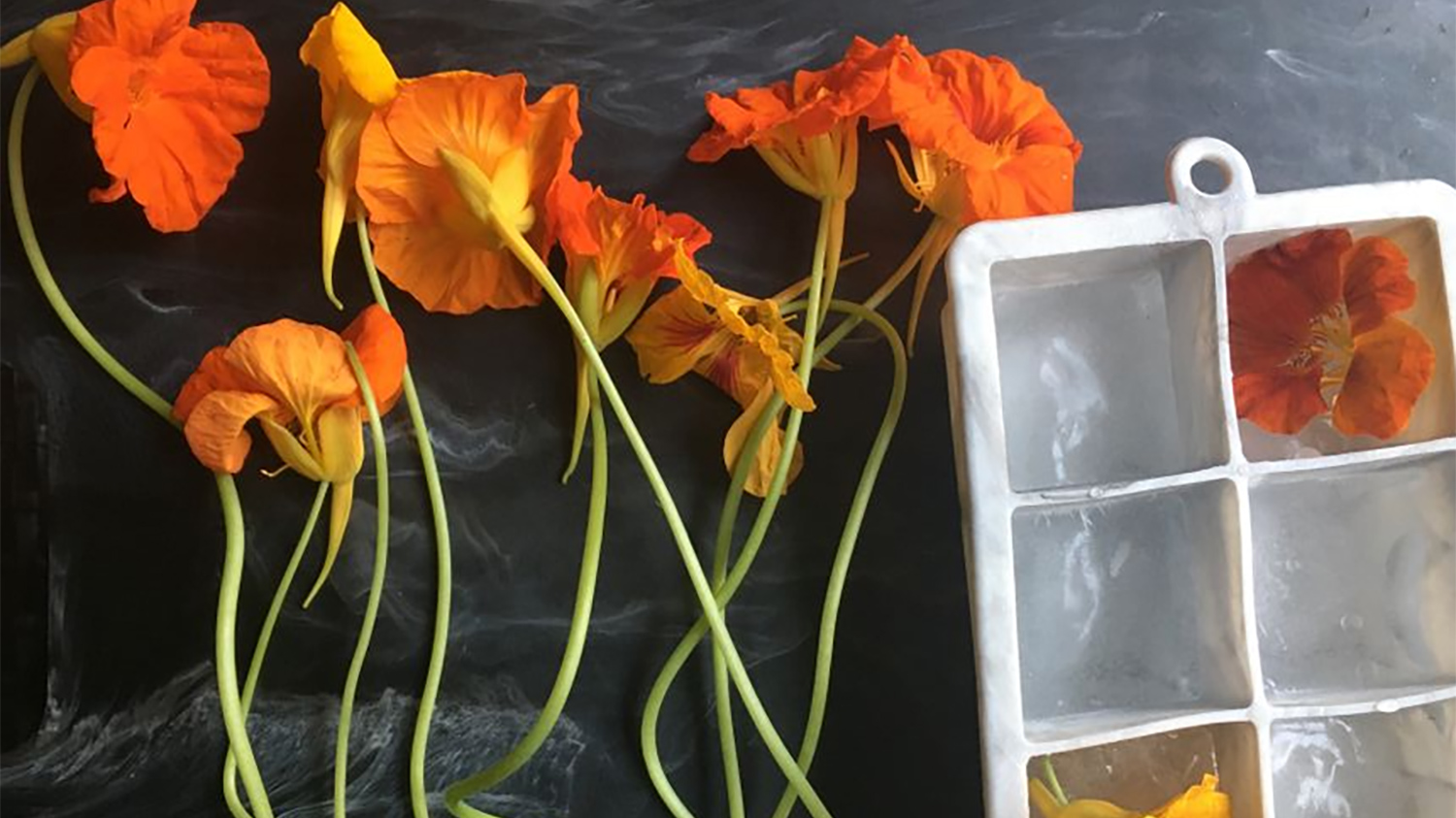 Photo Courtesy of Jennifer Osborn
Flower Ice Cubes
This will take your "garden party" to a whole new level. Following these step-by-step instructions will give you perfectly suspended flower-cubes! Truth be told, these flowers may not get eaten. But, just look at them! Add these cubes to your favorite beverage (like this Sparkling Borage Cocktail) for an instant smile.
Borage & Goat Cheese Ravioli
If you're a cheese fan, this one's for you! Ricotta, goat cheese, and parmesan make for a decadent filling, complemented nicely by the addition of Borage. Cook stems, leaves, and petals in water for 8 minutes. Give it a rough chop, and add it to your three-cheese mixture. If you're not into the fresh-pasta-making-game, you can use this hack and improvise with premade lasagna sheets from Whole Foods.
Calendula & Thyme Shortbread Cookies
Who doesn't love cookies? With this recipe, don't just garnish your dessert with petals: put them inside! If you want to mix it up for an extra floral taste, swap out the thyme for lavender flowers. Delightfully chewy, pull-apart, sugary goodness awaits you!
Lilac Jelly
Use Lilac flowers, or any other type of strong-smelling edible blossom (like the Lavender shown here), to make this jelly! Its lightly floral taste pairs nicely with many things: add it to your cream cheese and bagel routine in the morning, or include it in a lemon drop martini at night. Either way, you won't be disappointed.
"Poor Man's Capers"
Nasturtium flowers will produce large, pea-sized seeds, which you can transform into "capers." Assembly is pretty basic: one cup vinegar, one cup seeds, one teaspoon salt, one teaspoon sugar. You can spice up the recipe by adding sprigs of your favorite herbs to the mix!
Summer Rolls with Marigolds & Nasturtium
Forget Spring Rolls; Summer Rolls are our new favorite. Fresh Marigolds, Nasturtium, Cilantro, and Mint combine for a spicy fresh flavor. Nestled in a conveniently see-through rice wrapper, you'll have a dippable, tantalizing showstopper on your hands. We can taste the soy sauce already!
Lavender Blueberry Earl Grey Pound Cake
You are a handful of fresh Lavender flowers and one bag of tea away from the moistest, crumbliest, most delicious breakfast of your life. (With a little bit of coffee, you can have this cake for breakfast, right? At least on the weekend?)
Borage Face-Mask
Skincare is one of the many medicinal uses of Borage. Tap into its skin-healing properties by making this simple face-mask. What's required? Borage, an egg, and a blender! Easy enough. The results? This (hilarious) tester reported that her face became smooth, plump, and appeared to have fewer wrinkles. Is it worth incorporating into your weekly spa routine? Possibly!
Calendula-Infused Oil
It's no secret that Calendula has been a popular skincare ingredient in the past; so, why not cut out the middleman and make your own infused oil? Infuse Calendula into your favorite carrier oil (olive oil, argan oil, jojoba oil) and use it as a nighttime moisturizer on its own. Or, use your concoction as an ingredient in this salve, designed to help heal scars.
Chamomile Face Toner
Use up some of your dried Chamomile flowers for this recipe. Chamomile contains flavonoids that are known to protect the skin, calming rashes and acne. Coupled with Apple Cider vinegar, this Face Toner is a breakout buster! Not sure how to dry your Chamomile flowers? Keep reading.
Sachets
Are you tired of that shoe-closet funk? Use your dried herb flowers to create Sachets (little pouches of smell-good-goodness) to throw in your closets and dresser drawers. Since there's no right-or-wrong in the Sachet scenario, use your nose to determine the mixture that will suit you best. Not in the mood to buy or make Sachet bags? Instead, fill up a small children's sock with your unique mixture, tying the end with ribbon.
Candles
Incorporating dried flowers into candles is an easy way to elevate decor or create an attractive gift for a friend! Get creative by choosing flowers with different colors and scents, or keep them simply beautiful by selecting your favorite one. 
Not up to a candle-making challenge? Add some floral pizzaz to an existing pillar candle by:
Placing dried flower petals on wax paper.

Covering them with a layer of melted wax.

And then rolling the candle in the flowers.
A Quick Flower Drying Tutorial
Fresh and dried flowers both have a place in our hearts, diets, and daily routine! Dried flowers have a bonus: they can keep! Save them to make a hot cup of tea during the winter; use them in your bath soaks or as potpourri. Not sure how to do it? Don't worry; read these simple steps!
Cut fresh flower heads every 2-3 days to encourage your plants to produce.

Gather flower buds during the heat of the day; this is when the dew has dried, and the flower's flavor is at its peak.

Put whole-heads on a mesh rack or basket.

Place them in a warm, well-ventilated location.

Toss them every day or two to dry them evenly.

Test a flower after 7-10 days to ensure that they have finished the process. Err on the side of too dry. Petals should be crispy, and the base should be malleable but not moist.