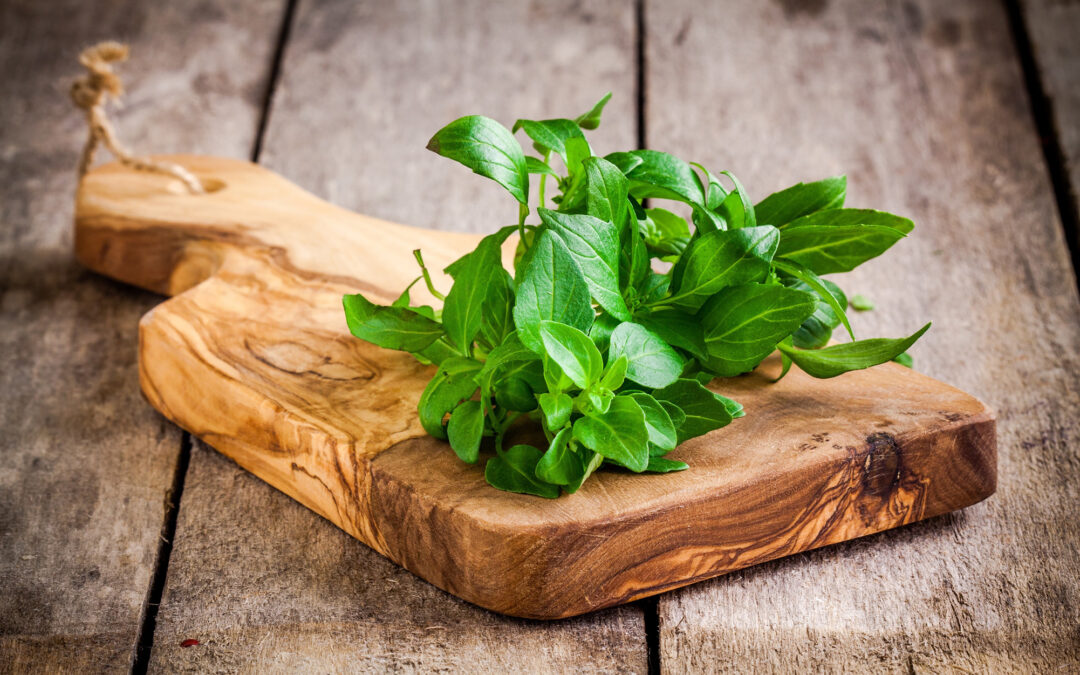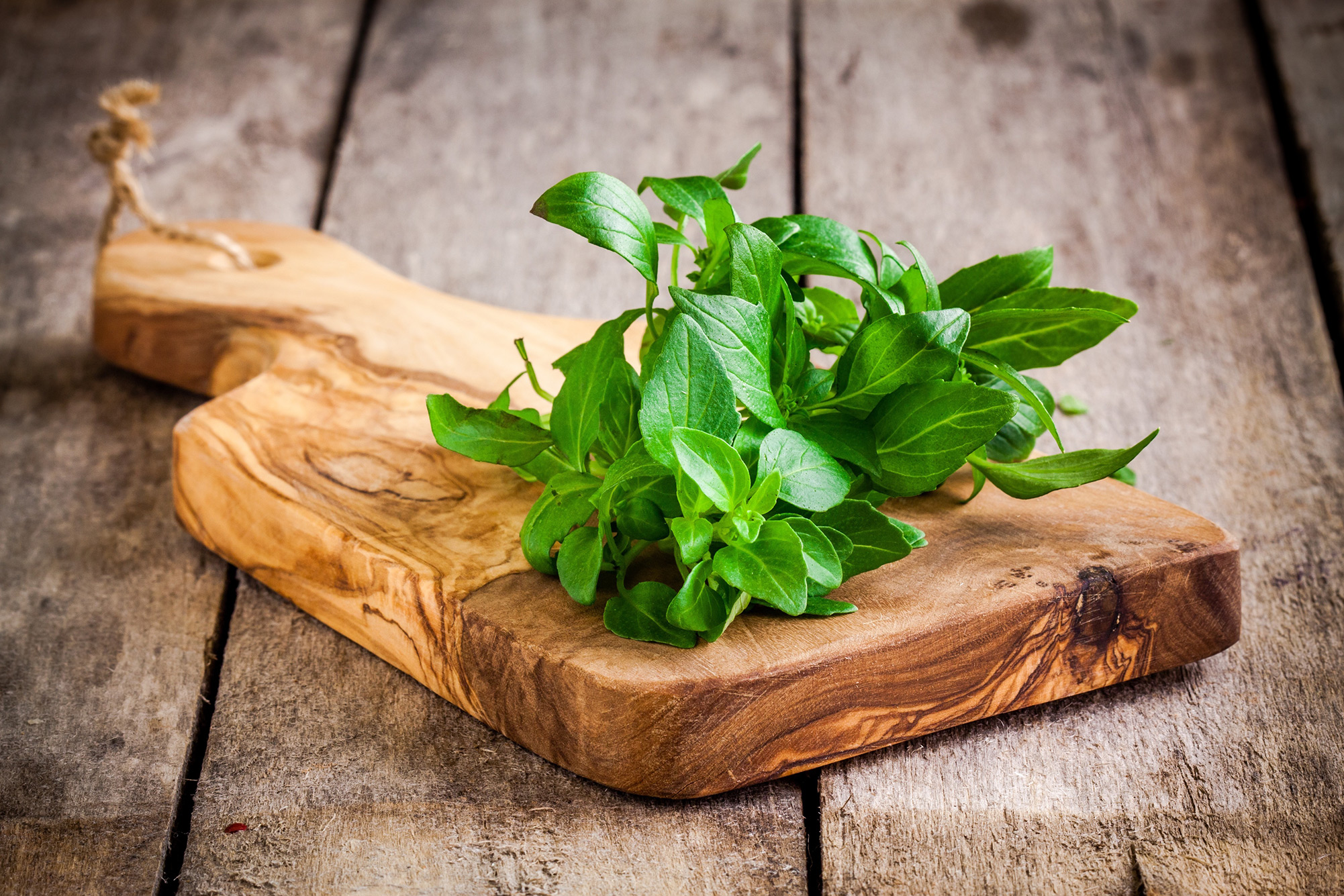 Basil: We love it. It's become a household staple and a beloved friend. It tastes great and enhances everything. No wonder the word "basil" comes from the Greek word for "King." But, when you stop to think, how much do you really know about that Basil sitting on your windowsill? This "King of the Kitchen" has a fascinating secret past, and surprising origins! Learning the facts will give you some mind-tingling trivia to use at the dinner table, and just might put a smile on your face next time you make your grandma's marinara recipe.
Basil Basics
What do Basil, Mint, Rosemary, and Sage have in common? Hold onto your chair! They're all related. Is your mind blown?
These plant-cousins seem vastly different in looks and tastes, but they are all part of the Lamiaceae plant family, which has about 3,500 species! In fact, the genus we know as Basil (ocimum basilicum) has 150 varieties.
That classic variety you're probably thinking of right now is Basil 'Genovese,' aka: Sweet Basil. But, there are plenty other types of this royal herb that deserve attention. Tulsi, or Holy Green Basil, is revered for its religious significance and health benefits. Then, of course, there's the dark and glossy Basil 'Amethyst,' and the 'Thai Siam Queen,' who graces us with her sweet licorice twist. And that's just to name a few!
Care
The good news is, all of these Basil plants require the same type of care. So, if you want to experiment this growing season and try out a new variety, don't despair! Just follow these basic care tips:
Soil: Select a nutrient rich, well-draining soil.
Water: Basil hates soggy roots. The soil should be kept slightly damp, rewatering before it has dried out in its entirety. If you've opted for container gardening, check your soil an inch or two down with a chopstick or your finger. If you used a traditional potting mix instead of the recommended well-draining soil, water less frequently. Tip: The best time to water is in the mornings or evenings. This will help prevent the foliage from getting sunburned from the harsh afternoon sun!
Light: These herbs love the morning and early afternoon sun. They require 6-8 hours of natural light per day.
If you are growing your Basil indoors, they still have the same natural light requirement. Put them near your sunniest window, and supplement with a grow light. If you opt to use a grow light-only, Basil requires 10 hours of artificial light.
Harvesting: You should do this frequently to encourage your Basil to become a mighty bush! Check the stem and locate an area where two pairs of leaves are growing; cut the stem just above. This means the two stems will continue to grow, amplifying your plant's productivity.
Fast fact: If harvested properly, twelve Basil plants can yield 4-6 cups of leaves per week! Having trouble using that much basil? You can always freeze it. Simply pulse the washed leaves in your food processor with some olive oil (to prevent the leaves from turning black in the freezer) and put it in an ice cube tray. Viola! Fresh Basil whenever you need it.
The Origins of Basil
When you hear "Basil," what country comes to mind? Italy, no doubt! And for a good reason: Pesto, Pasta Sauce, and Caprese Salad are some of our favorite Basil-forward dishes. The cruel irony, however, is that Italy's favorite herb is not a native of the Mediterranean.
Basil was a transplant during the spice trade from India and Asia. No one is entirely sure who gets dibs on its origin. The first historical record of Sweet Basil was in 807 AD in the region of Hunan, China. However, Basil's roots run deep in India, where Hindus revere it and use it in the ancient worship of the god Vishnu.
The confusion about the exact origins of Basil is a testament to its hardiness! Wherever this plant goes, it can grow and propagate. This also highlights the rich history of container gardening, which aided in Basil's transport.
Historical Significance
People in ancient times were fascinated by our favorite herb. Basil became an integral part of religious traditions and the topic of some intriguing folklore. Perhaps funniest of all: Many of the concepts are in stark contrast to each other. So, will we never know all of the secrets Basil has to hold? Read on and draw your own conclusion!
Basil is a central part of Hinduism. Holy Green Basil is offered to Vishnu, when worshipping her, making it a common feature in Indian gardens. During the British occupation, Indian citizens were permitted to swear on Basil rather than the Bible when in court, highlighting just how esteemed this herb is in Hindu culture!
The religious significance of Basil transcends belief-systems, as the Greek Orthodox Church uses the same type of Basil to prepare their holy water.
Jewish tradition says that Basil can give you strength when fasting. While Italians say that Basil helps you have a restful "abbiocco" (after-lunch nap).
Many cultures also revered Basil as a way to gain favorable passage into the afterlife. Ancient Egyptians used it in their mummifying procedures. Other cultures would place the herb in the hand or mouth of the deceased.
John Keats famously wrote a tragic love-poem surrounding Basil Folklore, entitled "Isabella, or the Pot of Basil." While we will save you from some of the grisly details (this story makes Romeo and Juliet sound like a kid's cartoon): A forlorn girl uses a pot of Basil to preserve her dead beau, only to "die forlorn, imploring for her Basil to the last" after her brothers steal her beloved herb. (Don't get this attached to your container garden, please!)
Meanwhile, in Africa, Basil was used to ward off scorpions. While in European cultures, just one whiff of Basil could apparently infest your brain with them!
Italians saw Basil as a signal of love. Portugal too, uses Basil as a gift to your sweetheart during certain religious holidays. While ancient Rome and Greece felt that Basil symbolized hatred, abuse, poverty, and misfortune.
Who would've thought that we had such a world-traveler on our hands! Next time you pick up some fresh Basil, take a couple of seconds to reflect on how far this 'King of the Kitchen' has come. (But smell it at your own risk!)
[wps_products collection="Basil Plants" items_per_row="4" title_color="#6BBEE7" show_featured_only="true"]