It's officially (almost) over. It's time to say goodbye to the summer garden, which is probably looking a little raggedy by now. But, don't despair… the fun isn't over yet! Now it's time to select new, cool-weather-loving herbs to spice up your kitchen table. Which ones should you choose? What can you do with them? Is it just Pumpkin-Spice-lattes from here on out?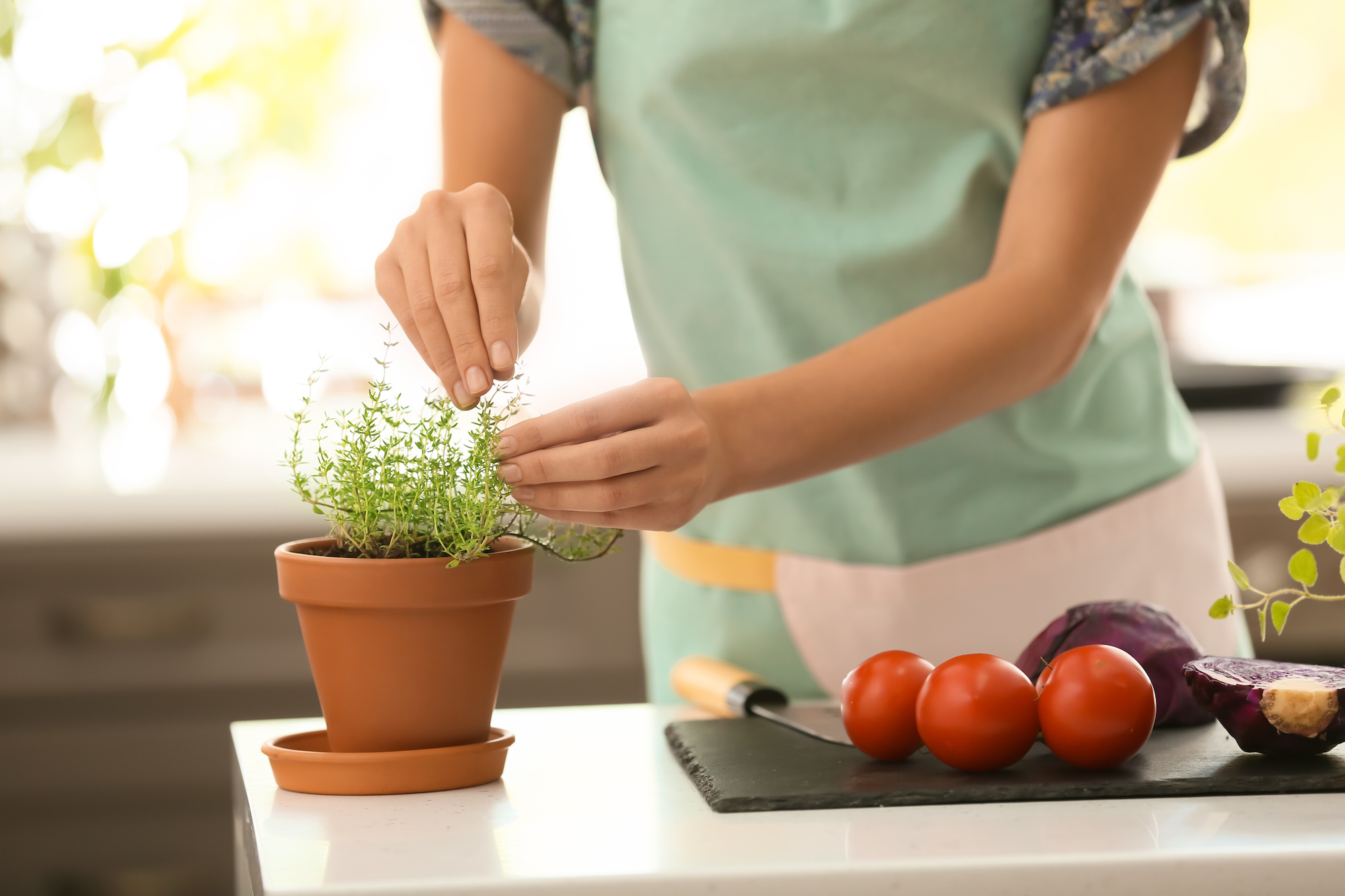 Why the Transition?
Your herbs have a life expectancy, and for many, they've reached the end of their rope. Why? Extreme heat and bolting will cause your favorite summer herbs to become bitter and even change their texture! July and August is the perfect time to give up the fight and call it quits on your annual and biennial plants, replacing the old with the new.
Which to Pick
Just as some herbs are summer-lovers, others are cool-weather-thrivers. Remember some of your favorite springtime herbs? Many of them are making an autumn comeback! Looking for a few suggestions?
Parsley
Cilantro
Chervil
Lovage
Arugula
Dill
What to Do with Them (& How to Love Them)
The good news: You aren't condemned to a life full of pumpkin spice (if that's not your thing). You can still enjoy summer-fresh flavors in the fall!
Parsley
How to Love
Parsley needs 4-6 hours of direct sun each day, so plant your herb in an area that receives partial sun. Placing established plants in the ground will give you a much faster turn-around for usable amounts of foliage. Another bonus? Parsley grown in the fall produces more abundantly than springtime plants!
How to Use
Flat Parsley
If Flat and Curled Parsley were in a flavor fight, Flat Parsley would win because it has the most robust flavor. Its perky, bright, slightly bitter taste compliments many fall favorites: including this Parmesan & Parsley Roasted Butternut Squash. And, no, just because autumn is approaching doesn't mean you have to say goodbye to pesto. Just make it out of Parsley!
Curled Parsley
Although it's milder, Curled Parsley shouldn't be overlooked. Its fresh flavor and charming foliage can make for an attractive garnish or take center stage in this Tabbouleh Recipe! Its soft, aromatic taste perfectly complements the punchier mint, which transforms into a lip-smacking treat with the addition of cucumber and lemon juice. (Please tell us you brought some lamb chops!)
[wps_products product_id="4317114761297" excludes="description" show_featured_only="true"]
[wps_products product_id="4317114826833" excludes="description" show_featured_only="true"]
Cilantro
How to Love
Cilantro loves cool weather and shorter days! If temperatures have cooled off in your area, place your plant in the full sun. For container gardens, make sure you plant your Cilantro in well-draining soil, adding extra perlite to the mix. These herbs do not require frequent fertilizing, but if their leaves start to yellow (and you're confident you're not overwatering), give them a nutrient boost.
How to Use
Thanks to Cilantro's cool-weather-loving abilities, your "Taco Tuesday" tradition will still be going strong in the autumn. Looking for a new idea to "spice" things up? Give these tantalizing Garlic Cilantro Shrimp Tacos a try!
[wps_products product_id="4317111156817" excludes="description" show_featured_only="true"]
Chervil
How to Love
If you live in an extra-cool area (maintaining temperatures of 65 degrees), your plant will enjoy partial sun. However, if your daytime temperatures regularly rise above that, your herb should be in shaded conditions. Chervil enjoys staying evenly moist, so water when the first ½ inch of soil is dry. If you're considering a container garden, Chervil is a perfect candidate for a self-watering pot (unlike many Mediterannean herbs).
How to Use
Chervil doesn't get the attention it deserves! This delightful herb has delicate hints of licorice and anise; and is often compared to fennel, parsley, and tarragon. Never tried it? Now's your chance! Welcome in soup season with this lovely Creamy Potato & Chervil Soup, teeming with bright, creamy freshness. This underutilized herb is also one of the four components in "Fines Herbes," a classic French herb mixture (also including Parsley, Tarragon, and Chives) that is delicious on eggs, fish, chicken… and probably anything else you can think of!
[wps_products product_id="4317111681105" excludes="description" show_featured_only="true"]
Lovage
How to Love
Lovage enjoys sandy, well-draining soil that is kept constantly moist! If the soil dries out, the leaves will taste bitter. For in-ground gardens, layer mulch, peat moss, or another type of ground cover to maintain moisture. For container gardens, select a large pot to accommodate this plant's bigger-than-expected root system. They are wonderful candidates for self-watering containers! 
How to Use
Do you love Lovage? Or is it new to you? Its flavor is somewhere between celery, parsley, anise, and mint… really, you just need to experience it for yourself! Venture on the sweet side with this addictive Lovage Icecream or enter "team saucy" with a Lovage Vinaigrette to make boring salads spectacular again!
[wps_products product_id="4317114499153" excludes="description" show_featured_only="true"]
Arugula
How to Love
Arugula requires 6 or more hours of direct sunlight, so plant it in a sunny location! While it prefers well-draining soil, it's resilient and can usually tolerate less-than-perfect conditions. Maintain even moisture throughout the soil, especially if warm temperatures persist.
How to Use
Who doesn't love the peppery leaves of Arugula, coupled with their crispy leaf texture? And no, in case you're wondering, you don't always have to make a salad. (Although, we suggest you do… they're absolutely delicious!) Change up your Arugula routine by making this Three-Cheese Arugula Naan Pizza! Some extra perks? You can use premade Naan as the crust, making this a no-brainer mid-week meal that will have everyone smiling!  
[wps_products product_id="4317109944401" excludes="description" show_featured_only="true"]
[wps_products product_id="6583808753745" excludes="description" show_featured_only="true"]
Dill
How to Love
Plant your Dill in well-draining soil and place it in an area that receives full sun. Since this herb can become top-heavy as it matures, plant it in an area that receives (at least) some protection from harsh winds.
How to Use
Calling all you pickle makers out there! Whether you make your own Dill Pickles or not, you can still take part in this scrumptious Creamy Dill Pickle Salad, which is bursting with sprigs of fresh Dill from your garden.  Looking for something a little less "pickle-y"? These Braised Lemon Chicken Thighs with Dill and Turmeric might be right up your alley! 
—
With a few tips and recipes under your belt, we trust you are falling in love with fall herbs. Now head over to the shop and grab your favorites before it's too late!
[wps_products product_id="4317111582801" excludes="description" show_featured_only="true"]
[wps_products product_id="6583803871313" excludes="description" show_featured_only="true"]