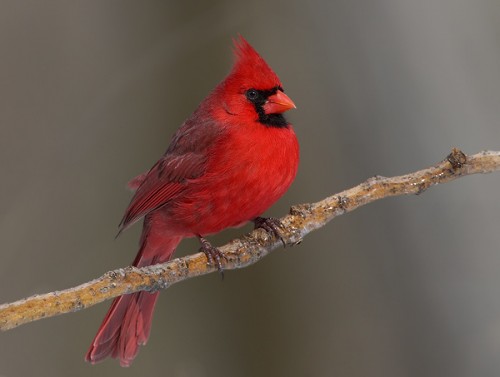 February is National Bird Feeding Month, and though we've had a fairly mild winter, here in zone 7, our feathered friends still need your attention. No matter where you reside, the birds in your area could use a helping hand during these cold, dreary months where weather may be harsh or unpredictable and food can be scarce. Here are a few tips to ensure that your bird buddies are well fed and warm until springtime arrives:
Water Through The Winter. Birds need a fresh source of water, so make sure to break and remove any ice that may accumulate in your bird baths, and replenish the water regularly. Our Bamboo themed Mini Oriental Bird Bath makes the perfect compact addition to your garden and gives birds plenty of fresh water to drink and play!
Cleaning is Key. Routinely clean debris from bird baths and old seed from bird feeders to prevent fungus and disease from developing and making the birds sick.
Home Tweet Home. Give your birds plenty of dry, protected places to nest for the winter. Hang birdhouses in areas that are out of the wind and weather to provide a great winter home for birds that don't migrate. Looking for a cozy country-inspired home for your birds? Our Red Wooden Birdhouse compliments your country garden with a rustic look to give your birds the best place to nest year round!
Treats For Tweets. I have vivid memories of my mother placing halves of too-far gone oranges, apples and pears; mushy bananas, dried nuts and other edible compost out along the snow covered railings of our porch, for the mockingbirds. Songbirds LOVE fruit! Giving your birds additional nutrition keeps their diet balanced while giving them something new to instigate, while giving you a great natural show to watch from indoors.
Feed the Flock. Don't forget to regularly refill your bird feeders and inspect them for winter damage. Replace cracked or broken feeders as needed with new ones.Our Glass Bamboo Feeder is made of thick, hand-blown glass and brass so it's sturdy enough to withstand winter's worst!
Out Smart the Squirrels. Other critters may be competing for food sources during this time of the year. Try to hang your feeders in areas that squirrels can't get to, or attach guards or cages to keep them from stealing all of your birdseed. Alternatively, you can find the best squirrel proof bird feeder at the Ballachy website to prevent these pesky animals from getting to the bird food.
Select The Right Seed. Suet cakes are a great "hodge podge" of high calorie seeds that come in different varieties to attract specific types of winter birds. Peanuts and Nyger seeds are other high calorie nuts and seeds that will ensure your birds stay plump and warm this winter.