Many cooks have never cooked with Lemon Grass – what a shame!  Lemon Grass is an easy, zesty herb that packs a robust punch of flavor to many recipes. Lemon Grass has a plethora of health benefits, especially when paired with other flavorful spices such as Garlic, Coriander, and fresh Chilies.
Cooking with Lemon Grass is as easy as can be.
Simply cut off the lower bulb and remove the tough outer leaves.  Most recipes call for the main (yellow) stalk, though some cooks reserve the upper green stem to add to soups and curries for extra flavor.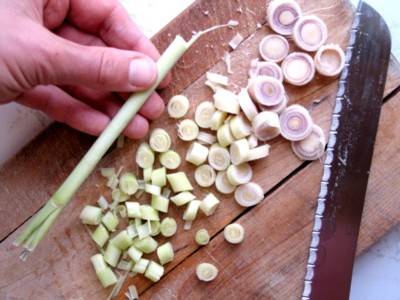 From here, you have two options:
The first (and easier) option if you are in a hurry or do not own a food processor, is to cut the yellow stalk into 2-3 inch lengths.  Bend them several times and add to your soup or curry.  You may also make very shallow cuts along the stalk with your knife, which will help release the lemon flavor.  Lemon Grass is a stalky and fibrous herb and can be a bit "stringy"; be sure to remove the stalks before serving.
Your second option is to slice the Lemon Grass into thin slices and pulse through a food processor before adding to your recipe.  Prepare in this way if you are preparing the Lemon Grass to be consumed, adding fiber, nutrients, and more robust flavor.
Happy herb cooking!