Just got back from a 'Bucket List' trip to Maui – 10 nights, 11 days exploring paradise with my family. Despite the time of year, we did all the usual Hawaii activities and even found a place where you could have your own private boat! Did I mention that we totally skipped the whole holiday thing? No tree, no lights, no stockings and no annual Christmas Party! Still got some of that in Hawaii, but honestly, I didn't have to lift a finger, much less the 10′ Fraser Fir.
So, what they say is true: Hawaii is paradise. The Leis covered with orchid blooms, gorgeous purple/white dendrobium blooms hanging around your neck. Water, water everywhere – and torrential downpours at night followed by awe-inspiring sunrises and garden awaking lush and flush from their soaking the night before. No sprinklers needed at this time of year. Green, green and more green with punches of color everywhere. Fruits, flowers and herbs – passion fruit, star fruit, cherimoya, breadfruit, pineapple, bananas. Farmer's Markets bursting with so many wild and wonderful offerings – fresh cut coconuts complete with a straw.
Just Like Home
Why the 'homey feeling', considering we were 4,000 miles away from home where we are currently facing a snow storm and single digits at night. Not sure if I can put my finger on it, but I'll try; the people of Maui live pretty close to the earth. Their living is made right there, on the land or in the water. There is no '6 degrees of separation', as everywhere you go, the land is with you offering up its abundance, almost for free. There truly is an 'Aloha Spirit'; a warmth and acceptance that is genuine and sincere. They live in paradise, and seem happy to share.
Start with a magnificent sunrise at 10,000 feet at the top of Haleakala (bring warm clothes), then wind your way back down to Paia in the Upcountry where you grab a few eggs and chop some chives for a nice breakfast. Oh, don't forget those oranges right outside the kitchen door.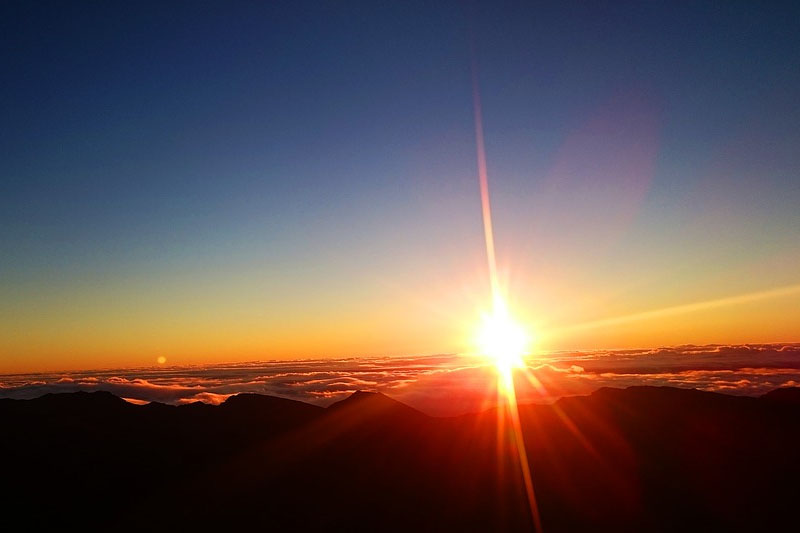 4,000 miles to the east, we can watch the sunrise over a cut cornfield, head to the chicken coop where the ladies have left us enough eggs for a hearty breakfast, and those Red Waddle piggies are now breakfast sausage. No fresh fruit but we did freeze our berries for an almost fresh smoothie.
In Maui, a day is spent on an impossibly beautiful beach, or hiking up to a majestic waterfall. Back home, we can paddle our marsh or bundle up for a horseback ride along the James River.
So, I guess the 'familiar feeling' is the one that comes from experiencing places and people that keep themselves tied, literally and figuratively, to the land. I've tried to keep myself tethered (which at this point means going out in VERY COLD weather with a round bale to feed my cattle and break the ice in the trough) so I'm naturally drawn to places that have that same connection. Maui is definitely one of those spots.
The only thing missing 'stateside' is that spirit. We need to figure out a way to bottle it up and bring it back to this increasingly divided land, a land desperately in need of a dose of warmth, of consideration and of connection.
Aloha Everyone…