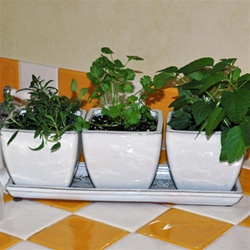 The time has finally come where the nights are getting crisper and the threat of frost is upon most of us in zone 7. While the fall foliage is beautiful, it marks the end of many outdoor gardening tasks until spring thaws the ground again. Before you begin to panic and go harvesting your herbs for drying and freezing, consider transplanting them for indoor use to enjoy fresh flavors all winter long. Alternatively, you could hire a shipping container farm to grow local produce in a controlled environment, which can be a lot easier. While we definitely recommend preserving your herbs so as not to waste their taste, many of your plants can easily be transitioned indoors and kept happily throughout the cold winter months. Keeping your herbs indoors will ensure a wealth of fresh flavor and natural aroma for all of your hearty winter dishes, holiday meals and hot teas. Keeping your plants indoors will also promise to cheer you up through the winter doldrums and keep your home smelling green and clean without the toxic effects of synthetic air fresheners.
Choose Wisely
Plants like Rosemary, Bay, Lavender and Lemon Verbena will pot very easily and do well over the winter, as do most culinary herbs. For plants that go dormant during this time of year like Mints (they tend to get leggy), you may need to enhance the lighting in your home with grow lights to encourage the plants out of their natural cycle. Herbs need approximately 14 hours of light a day, and about 6-8 hours of direct sunlight to maintain healthy growth. As you're considering which herbs to bring in, make sure you also consider proper indoor locations for your plants. Southern facing windows will get the most amount of light daily, and as the days grow shorter moving into winter, make sure to accommodate for the waning sunlight by rotating your plants and substituting with alternative light sources.
Transplanting
A few weeks before your area gets its first hard freeze of the year, it's best to transplant your desired herbs into pots for the winter. Choose only the healthiest plants, leaving any wilted, broken or feeble plants for the compost pile. Dig your plants carefully, and try to extract the entire root system. Once your plants are removed from the ground, pot them into new containers with new potting soil to prevent spreading any disease. Make sure to pot them in deep pots and leave them outside for a few days to acclimate to their new environments before bringing them inside.
Find The Right Spot
Once your plants have recovered and have been moved inside, make sure to not only choose a sunny location, but also consider the temperature and humidity in the area they are placed. For example, you wouldn't want to place your plants on the mantle of your fireplace that you enjoy using, as they will dry out quickly, just as you don't want to place them near a drafty door as they may get too cold. Monitor their needs for a while to see if they need more or less water and pay attention to their color and growth. Typically herbs don't need a lot of water, and you can maintain this by sticking your finger about a half inch into the soil to test for moisture. As long as the temperature in the room does not go below 50 degrees your plants should be warm enough to keep growing.
For more information and some tips on growing herbs indoors, see our article Growing Herbs Indoors.