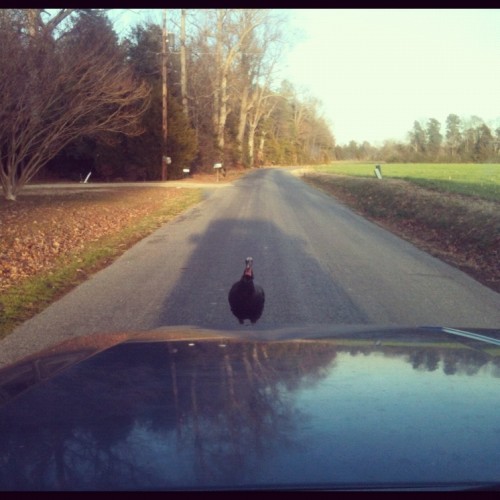 On her way home, our Marketing Director, Caroline, encountered a pretty tough bird. It's a good thing it didn't have a flock, or this might have gotten ugly…
There's one house on the way to the farm, that I always slow to a crawl when I past. The Raniers. In the mornings, their motley crew of dogs, comprised of two labs, one black and one yellow; a stout little beagle, and a bug eyed chihuahua bask in the warm sun in the middle of the one lane country road, or explore the ditches and field adjoining the road's worn pavement. They've become kind of like friends, as I pass them each morning and think "good dogs" to myself and while struggling to get that last drop of coffee out of my travel mug.
The afternoons are a bit of a different story. Replacing my familiar furry friends is a flock of nervous barnyard fowl, ranging from roosters to chickens in various and sundry breeds, and a wild turkey. Yes, I said wild. Apparently, Jamie and Lori, the owners of this tiny ranch, raised this turkey from an egg their son Hunter found. The turkey has grown to assimilate to its much smaller family of chickens without even noticing that its giant stature makes it so different. Now, while I wish no ill will on Hunter's hand-reared turkey, I do have a particular penchant for dining on wildfowl, especially in the fall – as we all do. I have friends who have invested in a game cam which they have been using to locate and pick out turkeys roaming in the wilderness. Maybe they will let me join them someday; I find that sort of technology interesting and I'd like to see it in use.
On my way home, like any other day, I slowed as I approached the birds while they meandered across the road, scratching and pecking in the dirt that surrounds the blacktop. The only thing different about this encounter was that the turkey stood firmly in the middle of the road, refusing to budge. As I nudged my car closer, it began walking toward me, never breaking its defiant gaze. I finally put the car in park when I realized that I wasn't going to win this game of "chicken" (pun intended), and stared back. It looked at me as if to say "this is my turf" without caring in the least that I was in a Jeep, and that it was outweighed and out horse powered. I jumped out and shooed it out of the road, and to my surprise as it slightly side stepped my path, it pecked at me! I jumped into my car and looked in the rear view as I began to pull away: the turkey was there. As if from some nightmarish Hitchcock movie, I was now being stalked mercilessly…by an evil turkey. I sped up, and he sped up. It wasn't until I'd hit almost 25 MPH that he gave up his chase for an easier pursuit.
I got a good laugh from my friends when I told them about my day and my face off with the ornery bird, and still cautiously drive past the Ranier's in the afternoon, always looking back for fear of that crazy turkey!