To keep our test garden growing strong through the winter, we've moved some of our favorite herbs indoors. Our sun porch has become a haven for potted herbs and one of our favorite places to take a break or eat our lunches. Receiving lots of sunlight, our potted garden has been thriving throughout this mild winter here in zone 7. Watering about once a week, our plants are showing lots of healthy new growth and it's not even spring!
What started as a project to see what temperature and lighting worked best for these potted herbs, has now developed into a lovely place to relax and find a moment of peace during the day. Having these plants close at hand makes cooking and crafting even more enjoyable. Bring natural beauty and energy to your home with two of our favorite fragrant and functional potted herbs!
Beautiful Bays bring savory flavor to your favorite hearty dishes. Well suited for an indoor garden, Potted Bays are slow growers but well worth the wait. These herbaceous trees can even be pruned into bonsai-like topiaries and make wonderfully useful centerpieces. A widely loved culinary herb, but sometimes hard to find due to high demand, Bays are drought tolerant, and benefit from full sun and well draining soil. Make sure to re-pot your Bay every two to three years to allow your herb to get bigger and prevent it from becoming root bound.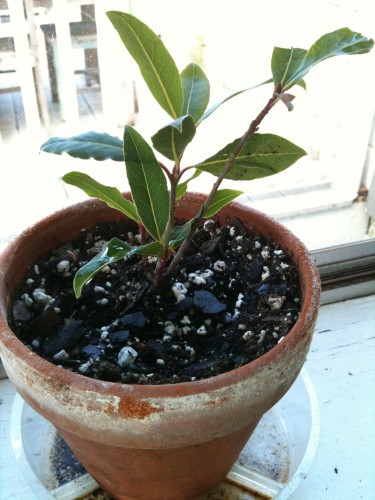 Lemon Verbena is one of our favorite aromatic herbs for its delicate citrus scent. Also a lovely culinary herb, you can try adding fresh Lemon Verbena to your tuna salad, favorite summer drink, hot tea or any dish that may be complimented by a touch of lemon for a subtle, natural flavor without the tartness of using lemon peel or juice. A beautiful indoor herb, Potted Lemon Verbenas need lots of sunlight and well draining soil. Great for potpourri and herbal crafts, Lemon Verbena is an herb that gardeners and cooks have grown and loved for centuries. Pot some for your kitchen or sun room and enjoy its naturally fresh scent all year long!