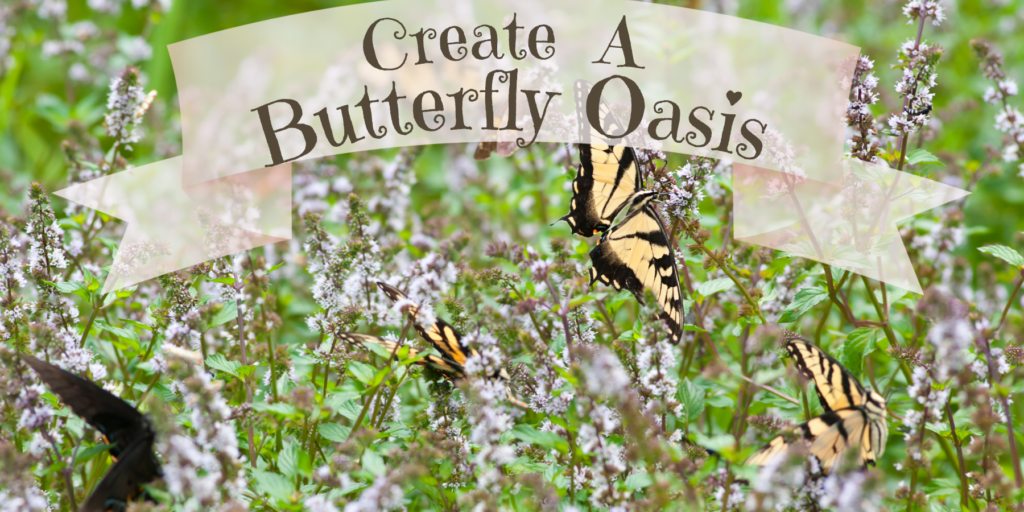 Butterfly gardening can be a wonderful way to experience wildlife in your garden, encourage pollination, and it takes very little maintenance, giving you more time to enjoy the beauty of watching butterflies flock to your plants. Many people who have maintained a butterfly garden for such a long time actually enjoy having visitors to come and look at their creation. This is also a great way to give back to your local ecosystem, as many natural habitats for butterflies and other pollinators have been destroyed by urban development and human interference. We always let about half of our test garden go wild in the summer, in addition to the many flowering shrubs and trees throughout the yard, to give butterflies a safe place to feed and lay their eggs. This is common practice, and we let this happen until the flowering shrubs and trees start to become an issue.
In planning your butterfly garden, make sure to plant plenty of host plants and feeder plants. Host plants are specific herbs, flowers and other plants, that mature butterflies lay their eggs on because they create a safe haven for their young who will also feed on these plants once they become caterpillars. Be aware that these plants will be the sole food source for caterpillars, so it will be pretty heavily snacked upon. Because these may look rather ragged by the time the caterpillars are done munching on them, you may want to add these to the back of your garden, but still close to feeder plants so that the caterpillars are able to find them easily in their next stage of life. Some common host plants include Fennel, Italian Flat Leaf Parsley, Dill, Broccoli, Sunflowers, and Butterfly Flowers (also known as Milkweed).
Feeder plants are nectar rich plants that adult butterflies will feed on throughout the season. These will also attract other helpful pollinators to your garden like honeybees and hummingbirds! Feeder plants tend to be fragrant and brightly colored, and you may be surprised to find that you already have many in your garden already. Some common varieties from our garden include Lantanas, Buddleias (also known as "Butterfly Bushes"), Joe Pye Weed, Bee Balm (Bergamot), Garlic Chives, and Oregano.
Remember to plant your perennial butterfly plants toward the back of your garden and your annuals toward the front, for easy seasonal replacing.
Don't forget to incorporate herbs into your butterfly garden! Many herbs are perennial and will provide you with a safe haven for caterpillars and beautiful blooms when they flower. You can also use them in many other ways!
Choose an area that is protected by the wind, as butterflies are delicate and don't want to fight strong breezes to feed.
Provide a water source, such as a birdbath or a shallow bucket filled with water with sand in the bottom.
Avoid using pesticides on your plants as these will harm the butterflies and their young.