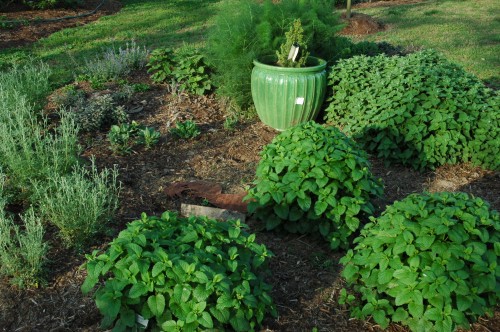 Spring is here and there is nothing more beautiful than looking out at perfectly shaped herb plants, thriving in our test garden. We planted these perennials in our test garden this past Fall and with our mild winter here in zone 7b this year, they're all well established and growing vigorously. To help cut back on spring chores and to ensure less stress to many of these plants (especially the woody perennials) we pruned them in early February for healthy new foliage this spring.
There are different types of pruning methods, depending on the type of herb. Woody perennials, like Rosemary need to be hard pruned while the weather is still cold in early spring, so that it causes the least amount of stress to the plant. Hard pruning means cutting the plant back to the more mature wood, where there is no sign of tender new growth. This directs the plant's energy to the newly trimmed area to encourage new, lush growth once the temperatures warm. You can prune up to about one third of the plant, and then give it more frequent "haircuts" throughout the rest of the year to keep the foliage nice and green. For a great video on hard pruning your woody perennials, check out our video where I prune the Rosemary 'Salem' in our test garden!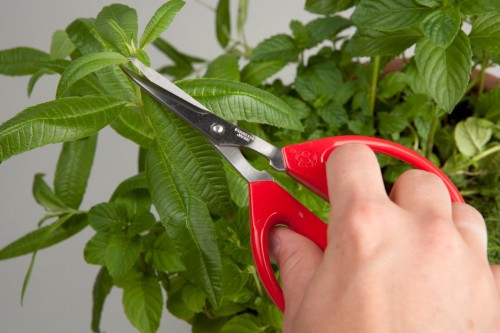 For leafy herbs like Italian Flat Leaf Parsley, make sure you prune your plant around the outside, leaving the new growth in the middle. As the plant grows, the older foliage gets pushed to the outside, as the tender new leaves emerge in the middle. Once you trim your leafy herbs, you should see vigorous new growth as the plant redirects its energy toward producing new leaves. Here's a great video on pruning Parsley to give you some inspiration!
Pruning can be rather scary for new gardeners, as the thought of cutting the plants you've worked so hard to grow can feel a bit like a step in the opposite direction.  Don't worry! Plants appreciate a good spring cleaning and a little trim around the edges to really allow them to flush out as the weather gets warm. Always make sure to use clean, sharp pruners or scissors for a healthy cut and your plants will bounce back even better than before!